In the work I do with companies, I'm often asked how to spot bias. A good place to start is by looking at those who argue bias no longer exists. New research published in 'Science Advances' of the traditionally male-dominated field, veterinary medicine, found that managers who felt gender bias no longer existed were the ones most likely to perpetuate it. They were the most likely to downgrade the performance reviews of fictional female job applicants – even when they are identical to the reviews of fictional male applicants.

Managers were asked about the competence levels and salary they'd advise for this new hire and whether they thought gender discrimination was still an issue in the field. Managers who disregarded discrimination with 'it's not happening anymore' were most likely to rate the fictional 'Mark' as more competent than his counterpart, fictional 'Elizabeth' – and recommend paying 'Mark' 8% more money.



Plus, because of Mark's higher ratings, they advised giving him more managerial responsibilities, and were more likely to encourage him to pursue important opportunities for promotion – affecting the entire trajectory of Mark's and by default Elizabeth's fictitious career pathways! These judgements held true irrespective of the manager's gender, level of managerial experience or years in the profession. Interestingly, Begeny and the team at the University of Exeter picked veterinary medicine precisely because it was historically male-dominated, but the profession has seen a real increase in the number of female vets in the last decade.

This highlights how insidious these effects are, and how merely getting more women into a profession isn't the silver bullet we'd like to believe. This has big repercussions for all the fields in which I, and maybe you, currently work; STEM, professional services and finance – industries which often think simply getting enough women in will 'fix' everything. Clearly, this shows it's going to take ongoing vigilance after that step, and I'd argue it also has wider implications for inclusion efforts beyond gender.

Last deals on books in time for the holidays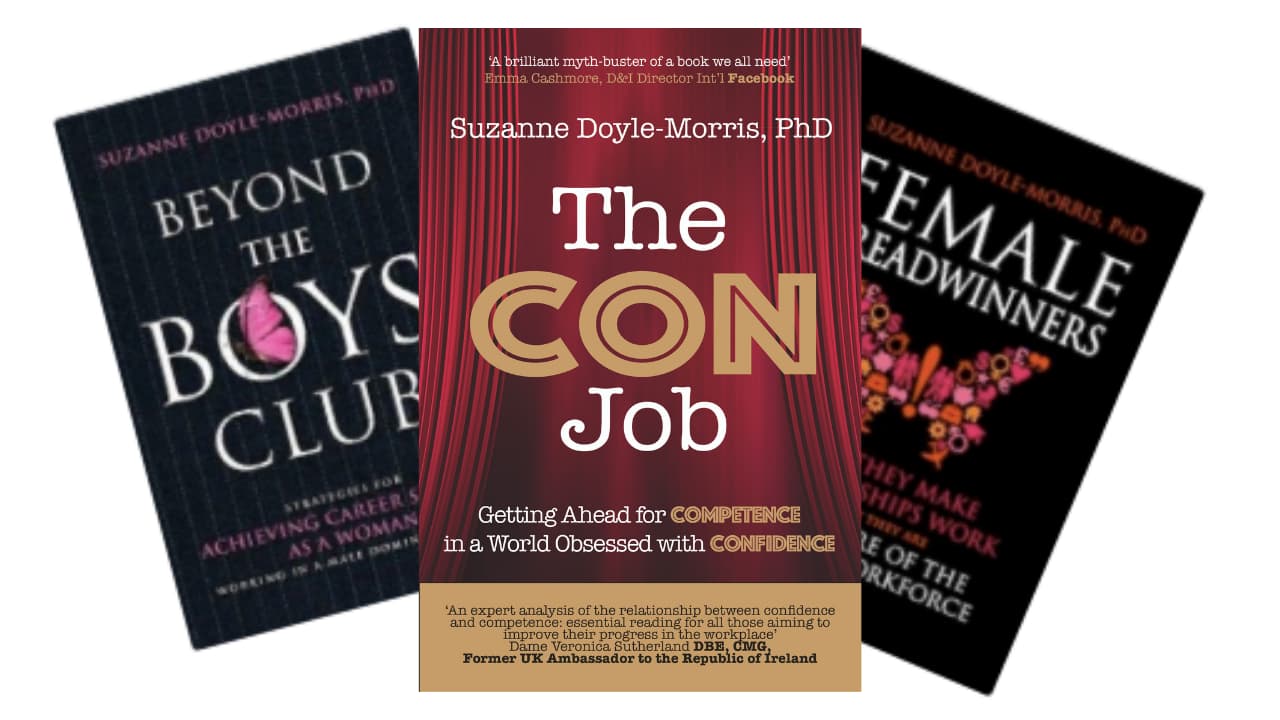 If that kind of research with its ability to have real-world implications turns you on like it does me 🙂 check out any of the 3 books I've written which delve so much deeper into these topics. This is the final week I can ensure getting you (or your loved ones) signed copies of any of my 3 books – 'Beyond the Boys Club', 'Female Breadwinners' or the latest 'The Con Job', before the holiday season is upon us. Visit my shop to get a good deal on what could be a perfect gift for yourself or an ambitious friend who you know has a bright career ahead.

You can purchase a signed copy of my latest book, 'The Con Job' and your choice of either 'Beyond the Boys Club' or 'Female Breadwinners'. Simply add 'The Con Job' and one other book to your cart then added the discount code £22for2books after 'Buy it now'.  

Alternatively, if you want an even deeper deal – get the triple pack – with one of each book for just £30! Plus you get free shipping anywhere in the UK. That's a better price than you'll find on Amazon plus the money doesn't end up in Jeff Bezos' hands (always a score!).  If you let me know in the notes section, who you'd like them made out to – I can even sign them to further personalise that gift! But Santa is already loading his sleigh (no doubt with Mrs Claus organising it all!) so order by this week – the 15th to ensure you get your copies before the holidays.